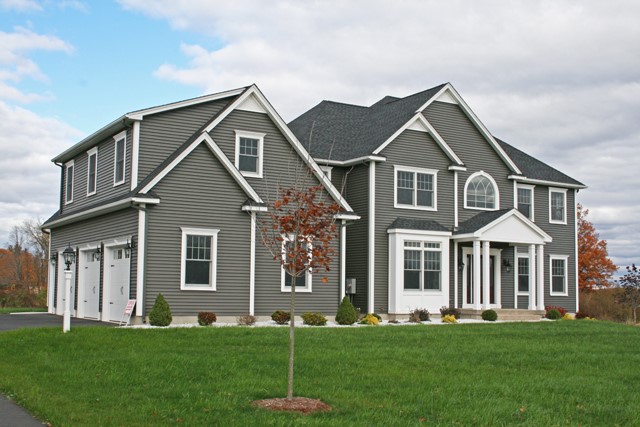 9 Things to Consider When Building a New Home
Building a new home is an exciting and fascinating process. Many first-time home builders experience a steep learning curve at the start of their planning and continue to learn throughout the project. From layout to lighting, landscaping to energy efficiency, and beyond – there are a host of considerations you will want to bear in mind.
Beginning home construction from scratch will allow you to customize to your heart's content, as well as plan a smart and functional home that your family can enjoy for years to come. But before you break ground on that dream home, there are a few things to keep in mind!
Here are 9 things you may want to consider when building a home:
1. Let There Be Light!
Nobody has ever complained about a home having too much light, and building your own home is the perfect opportunity to create a light-filled atmosphere in every room. You can always err on the side of more recessed lighting, skylights, windows and sliding doors. Natural light should be the primary source of lighting in each room.
And don't forget to plan for ample lighting in the bathrooms, as well – in terms of light, they are the most overlooked room in the house.
2. Preserve Mature and Old-Growth Trees
If it's at all possible to build around them, don't cut down mature and old-growth trees on your property. These old beauties are irreplaceable. Plus, they add to your home's curb appeal and resale value. They also create a sense of history and linkage with the landscape.
Try framing these prominent trees in your larger windows for one-of-a-kind views.
3. Make Your Kitchen Extraordinary
The kitchen is the star of the home, a multi-purpose area with heavy traffic, and a crucial element in resale value. Therefore, it pays to get it right from the start. Invest in top-quality cabinets and energy-efficient appliances, and think carefully about this all-important room's main functions before planning a kitchen design.
Often overlooked, well thought out kitchen placement will make your life much easier for years to come. Make sure it's situated near a door or garage entryway to make unloading groceries easier, and give it easy access from the living and dining rooms. Also, don't forget to add plenty of lighting and storage!
Cabinets can be expensive to replace later – try upgrading them at the beginning.
4. Plan for Energy-Efficiency from the Start
It will immediately save you money to invest in energy-efficiency for your home at the onset. Many first-time homebuilders make the mistake of waiting until later to add energy efficient windows, appliances and heating systems.
According to NewHomeSource.com, tankless water heaters, as well as plumbing and air conditioning units with high efficiency ratings are worth the upgrade for their savings value.
5. Build the Right Sized Home
When building a new home, bigger isn't always better. The more square-footage you add, the higher the costs for heating, cooling, cleaning and maintenance.
According to a U.S. News article, many people build 6,000 square-foot homes and then wish they could downsize in a few short years. "A home as small as 2,500 or 3,000 square feet won't feel small if it's designed properly," says Andy Stauffer, owner of Stauffer and Sons Construction, a homebuilder in Colorado Springs. "According to the National Association of Home Builders, a custom home in the USA costs an average of $105 per square foot to build. That means by eliminating even 500 square feet in a home that you don't need, you'll save over $50,000."
6. Know all the Details Before You Start Building
Having a layout for your floor plan is certainly a great start, but you should also know how you plan on designing the final space. It may figure in to the final layout, and you don't want to hold up your contractors with small details and questions later. Think about the design needs of each room: how many outlets are needed, and where, what fixtures, appliances and furniture you will need.
Go through the floor plan in your mind many times (or with the help of computer rendering) in order to discover any hidden issues beforehand.

7. Think About Your Outdoor Spaces, Too
As you plan the house layout in detail, don't make the mistake of overlooking your outdoor spaces! Consider decking and porches from the beginning – it will be cost-effective to build them now versus later. Also, think about your property's natural virtues, like clear southern exposure, drainage, privacy screening and water elements. You can use these to your advantage as you design.
Capitalize on passive solar energy: clear southern exposure can help save on energy costs throughout the year. Install large, southern-facing windows to take advantage of the strongest sunlight each day.
8. Keep the Bedrooms Quiet
When designing room layout, the bedrooms are best kept away from noisy areas of the home, such as living rooms and kitchens. It's also a bad idea to place a bedroom over a garage if there are other family member coming and going during the night.
Freshome.com: "If your home is to be on one level, the master bedroom should ideally be at the far end of the house, the end furthest away from the garage. The master bedroom, ideally, should not share a wall with the central living area."
9. Build Ample Closet Space
A home with a walk-in closet in the master bedroom is highly desirable when it comes to resale. It will also make your life much easier. You might also consider a walk-in pantry in the kitchen, and a coat closet by the front door. If you have the square-footage to spare, adding closets during the design phase will save you hassles down the road.
Although you will want plenty of storage in your new home, be careful not to sacrifice too much of your bedroom or bathroom space in order to add a huge closet.
Hopefully, this list of 9 tips for building a new home has given you food for thought as you embark upon construction. Don't forget to visit one of our beautiful showrooms for more inspiration and ideas!
Sources: https://dengarden.com/misc/new-construction-home-building-tips, http://freshome.com/2013/05/23/10-mistakes-avoid-when-building-new-home/, http://realestate.usnews.com/real-estate/articles/8-financial-mistakes-to-avoid-when-building-a-new-home/, https://www.newhomesource.com/resourcecenter/articles/home-upgrades-that-are-totally-worth-it,
---
Looking for tips and guidelines for your kitchen design? Check out our Kitchen Design Guide!