When it comes to durability, efficiency and resiliency, there is one building enclosure system that has transformed wood-framed building envelopes. Created as an alternative to the traditionally used wood sheathing with housewrap, ZIP System® sheathing and tape strikes the balance between efficient installation and long-term water and air management.
A Structural 1 rated engineered wood panel with an integrated water-resistive barrier, it eliminates the need to install an additional weather barrier. Completed with advanced acrylic ZIP System™ tape at panel seams and flashing details, the system delivers a continuous water and rigid air barrier in a simplified method. Code-compliant as an air and water barrier for roof and wall assemblies, the system is also backed by a 180-Day Exposure Guarantee and 30-Year Limited Warranty.
This streamlined approach for weatherized roof and wall systems helps keep schedules on track and reduces the risk of repair delays.
Benefits include:
Speed & Ease of Installation – ZIP System creates a quick and simple two-step installation that eliminates the need for housewrap and felt.
Continuous Air Barrier – Taped seams form a tight barrier against air leakage for a more energy-efficient building envelope.
Integrated Water-Resistive Barrier – Helps protect against water intrusion while still allowing the panels to properly dry.
Structural Durability – ZIP System panels are available with a Structural 1 rating[1], so you can get shear strength to meet seismic and high-wind-zone requirements.
---
ZIP System Liquid Flash!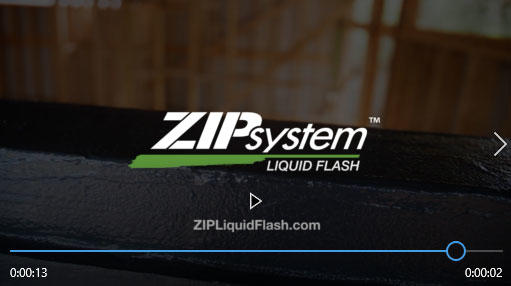 ENGINEERED FOR SEALING IRREGULAR, CURVED OR HARD TO FLASH AREAS.
ZIP System liquid flash is a fluid-applied flashing membrane that flows easily into corners and curves for a tight, dry building envelope. When used with ZIP System sheathing for a streamlined air and water barrier installation, it's backed by a 30-year Warranty.
Featured ZIP System Products
A revolutionary new approach to building enclosures, ZIP System sheathing and tape streamlines the weatherization process with an integrated air and water-resistive barrier that delivers moisture and air protection in one easy-to-install system.
ZIP System flashing tapes are not your average industrial tapes. Made with advanced acrylic adhesion specially formulated for application over a wide temperature range, ZIP System tapes are pressure-activated to create a powerful bond that gets stronger over time.
Stick it to the rain, with ZIP System peel and stick underlayment which offers superior moisture protection, slip-resistance, and a Leak-Free Guarantee when paired with ZIP System sheathing and tape – for everything from eaves to the entire roof.