Trex Decking
Trex is the world's #1 decking brand and the inventor of wood-alternative composite decking. From the beginning, Kelly-Fradet has been committed to helping you create a low-maintenance, high-performance backyard retreat by offering Trex products. Trex decking products will make sure you have a beautiful backyard that lasts for decades, because your weekends should be spent relaxing on your deck, not repairing it.
Trex has four different lines of decking to choose from—Transcend® Lineage™, Transcend®, Select® and Enhance®.
---
Trex's top-of-the-line decking comes in four on-trend colors and is engineered to be cooler than other composite decking of a similar color. Of course, as with any decking product, avoid exposing bare skin to the decking for extended periods of time on particularly hot days.
---
Similar in quality to Transcend® Lineage™, but without the heat-mitigating technology, Transcend® decking is available in eight multi-tonal monochromatic colors. Transcend decking uses 95% recycled plastic film and reclaimed sawdust, and is backed by our 50-Year Limited Residential and Fade & Stain warranties.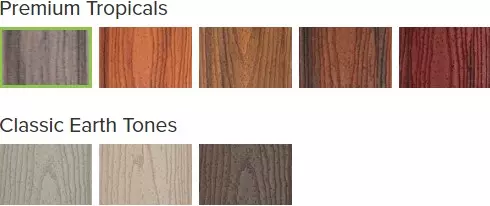 ---
Trex Select® decking is the perfect pairing of price and minimal maintenance. It is available in five nature-inspired colors that pair smartly with any home, and offer a soft, splinter-free finish that's comfortable underfoot.
---
Trex Enhance® pairs great quality with affordable pricing. Enhance decking boards are scalloped, making them as lightweight as lumber—without the extra work. This long-lasting decking requires little upkeep and comes in seven colors.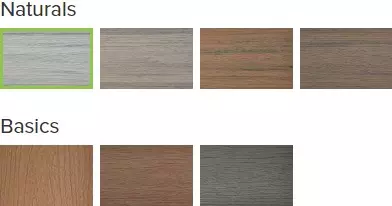 ---
Why Choose Trex Decking?
Trex is an industry leader that has invented, defined and perfected the composite deck category, and there are several reasons why you should choose Trex. By choosing Trex for your next decking project, you'll enjoy a deck that's:
Fade and stain resistant
Mold and mildew resistant
Termite resistant
Splinter free
Available in a variety of color options
Protected by a shell that helps it last longer
Eco-friendly, and made from 95% recycled materials
Are you ready to create the Trex deck of your dreams? Kelly-Fradet can help! Check it out:
Comparing Trex to Wood Decks
Everyone loves the natural look of wood, but who wants all the painting, staining and sealing? Wood decks of all types, including pressure-treated wood, ipe, cedar or redwood, all require extensive upkeep. Trex was designed with the beauty of wood decking, but not all the maintenance. Their high-performance, eco-friendly composite boards withstand years of sun, sleet and snow, keeping their rich color. And, through it all, they have never felled a single tree. So, when comparing composite decking vs. wood, there's no competition.
Whereas Trex is low-maintenance, wood decks:
Can rot, split, swell, twist and fade
Crack from insect infestation
Require annual painting, staining or sealing
Splinter easily
Contribute to deforestation
Featured Trex Products
Trex has perfected composite decking by assembling a lineup of low-maintenance, high-performance decking products that will produces exceptional outdoor living for every taste and budget.

Trex offers some of the best composite deck railing products in the industry. Railing is an eye-catching element of any deck design, and with Trex offering so many options, finding the perfect match for your deck is easy.
Trex offers aluminum railing through its Reveal product line. This product line offers a charcoal black appearance, sturdy construction, and low-maintenance.
Trex was built on the invention and perfection of wood-alternative composite decking. Start browsing information and resources on the revolutionary products at the heart of the world's #1 decking brand.
Get more room out of your outdoor space with beautiful kitchen storage solutions by Trex. Gorgeous form, meet gotta-have functionality.
A gorgeous deck starts with a great plan. You must consider many factors, such as size and use, maintenance and materials, and even timing. But above all else, you should have a good idea of what you want the design of your deck to look like. If you're seeking inspiration, you've come to right place! Trex makes it simple to design a deck you'll love – with everything from proven products to handy design tools.