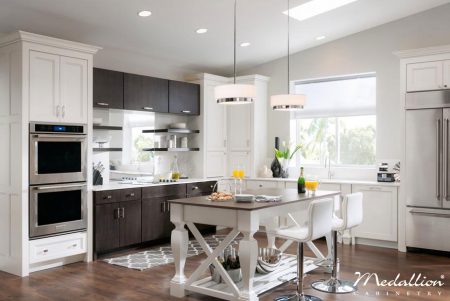 Medallion Cabinets – Inspired by Your Life
Medallion Cabinetry by Cabinetworks Group offers a nearly limitless array of styles, wood finishes and customizable cabinetry to create built-in furniture for the kitchen, bath, and other living spaces throughout the home. Cabinetworks Group offers an unmatched selection of stylish, high-quality products at a variety of price levels.
Cabinets are a core element of your kitchen in terms of both style and function. That's why Medallion® Cabinetry designs cabinets that not only look great in a showroom but perform well in your everyday life.
Each Medallion® Cabinet features:
A glued and pocket-screwed hanging rail to keep your cabinet securely attached to the wall
I-beams dadoed into the face frame, end panel and back panel for extra structural support
Dovetail drawers aka the strongest joinery possible
Quiet close drawers & doors
Medallion® Cabinetry offers three different lines of cabinets: Platinum, Gold and Silverline.
High-performance materials
Inside and out, Medallion cabinets use high-performance materials and the best construction techniques. Medallion Cabinetry carries the Kitchen Cabinet Manufacturers Association (KCMA) seal assuring you of quality product that complies with the rigorous standards set by the American National Standards Institute (ANSI).
Kelly-Fradet is your source for Medallion Silverline, Gold and Platinum Cabinetry options. We encourage you to visit one of our showrooms for a firsthand look at Medallion cabinetry colors and styles, and to speak with one of our experienced designers.
View Kelly-Fradet kitchen designs for inspiration!
Featured Medallion Products
An iconic cabinet choice for great American homes, Gold exudes the ultimate in personalization when it comes to finishing details and smart storage solutions. Available in a standard overlay style, Gold Cabinetry features extensive modifications and customization options. Finish options include paints, stains, glazes, specialty and distressed finishes. Available in knotty alder, cherry, hickory, maple, rustic maple, oak and quartersawn oak. Quiet close doors and drawers are standard.
Beautiful and functional, Silverline fulfills expectations with its practical value and upscale style. Form and function are the order of the day with Silverline framed cabinetry. Silverline is available in 2 standard overlay styles with a five-piece drawer front. Limited modifications and custom quotes are available. Quiet close doors and drawers are standard.
Crafted with exquisite details and artistic touches, Platinum displays timeless style and features superior workmanship in every angle, line and curve. Inset cabinetry offers a distinctive look with clean lines created by doors and drawer fronts sitting flush to the face frame. Quiet close doors and drawers are standard.