Why JELD-WEN
JELD-WEN is one of the world's leading manufacturers of reliable windows and doors. They are one of the world's largest door and window manufacturers, operating 117 manufacturing facilities in 19 countries.
Headquartered in Charlotte, North Carolina, JELD-WEN designs, produces and distributes an extensive range of interior and exterior doors, wood, vinyl and aluminum windows and related products for use in the new construction and repair and remodeling of residential homes and non-residential buildings.
JELD-WEN is a recognized leader in manufacturing energy-efficient products and has been an ENERGY STAR® Partner since 1998.
JELD-WEN makes the right, energy efficient windows for your home. A window is more than just a pane of glass. It's a complex unit that can be built in a number of combinations. Energy efficient windows feature an insulating glass unit of two or three panes as well as Low-E coatings, gas fill and a variety of engineering advancements that stop the transfer of heat and cold. Together these high tech options make a glazing package.
JELD-WEN's secret to longer-lasting wood windows and doors is an exclusive manufacturing process that protects against wood rot, water saturation, and termites. This process is how they make AuraLast Wood. Unlike dip-treated wood, which is common in the industry, JELD-WEN's vacuum pressure process forces the protective ingredients all the way through to the core of the wood for virtually 100% penetration. They use a closed-loop, water-based system, which reduces volatile organic chemicals (VOCs) by 96% compared to the ordinary method of dip-treating wood in open vats of petroleum-based fluids. Their intense, vacuum pressure process also results in using less preservative to achieve an even greater level of effectiveness. The reliability of AuraLast wood is only available at JELD-WEN.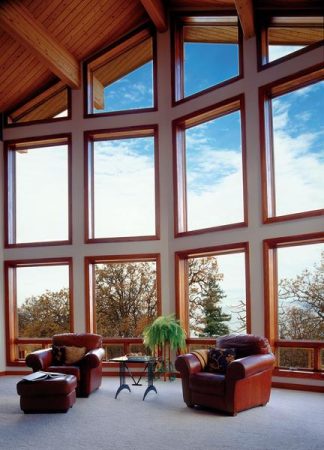 They Have You Covered
In addition to revolutionizing the wood window and door market with AuraLast wood, you can count on JELD-WEN for:
Industry-leading warranties
Short lead times and on-time, accurate orders
A knowledgeable network of dealers
Experienced Architectural Consultants and Commercial Solutions Team
Please visit one of our showrooms for a firsthand look at JELD-WEN windows, or browse our popular product selections below for more information. Remember, we can custom order any window or specialty window item your project requires!
Whatever the scope of your window project, our team of experts are ready to answer your questions, discuss your project, or make recommendations. Stop in to one of our showrooms to explore a variety of replacement windows and new construction windows, and to speak with a professional today!
Featured JELD-WEN Products
Depending on the location, new windows can increase your home's value and energy savings. In fact, according to ENERGY STAR®, replacing old windows with new ENERGY STAR® qualified models yields between 7 and 15 percent annual savings on household energy bills.
Available in White, Almond or Desert Sand. Energy efficient options include ENERGY STAR. Other options include blinds between the glass and pet panel.
BROSCO has expanded its JELD-WEN Fiberglass Door offerings. These state-of-the-art doors will make your home feel more welcoming and safe, and are a quick way to increase your home's value.
With a wide variety of styles, colors and finishes, and available with solid core to reduce sound transmission, JELD-WEN® molded wood interior doors are environmentally friendly and affordable.