Steel vs. Fiberglass Entry Doors: What's a Better Investment?
When shopping for front doors, it's helpful to know the basic differences between steel and fiberglass entry doors. There are key benefits to each, as well as drawbacks.
Your home's entry door serves a variety of important functions, as well as providing attractiveness and style. An entry door creates the very first impression people get as they step up onto your walkway or porch. It protects your home from the elements, guards against possible intruders, and sustains your home's efficiency by helping to maintain heating or cooling system temperatures.
No matter your home style or budget, there's a perfect entry door to match your personality and taste.
So, what are the major differences between steel and fiberglass entry doors, after all? And which is the better investment?
Steel Entry Doors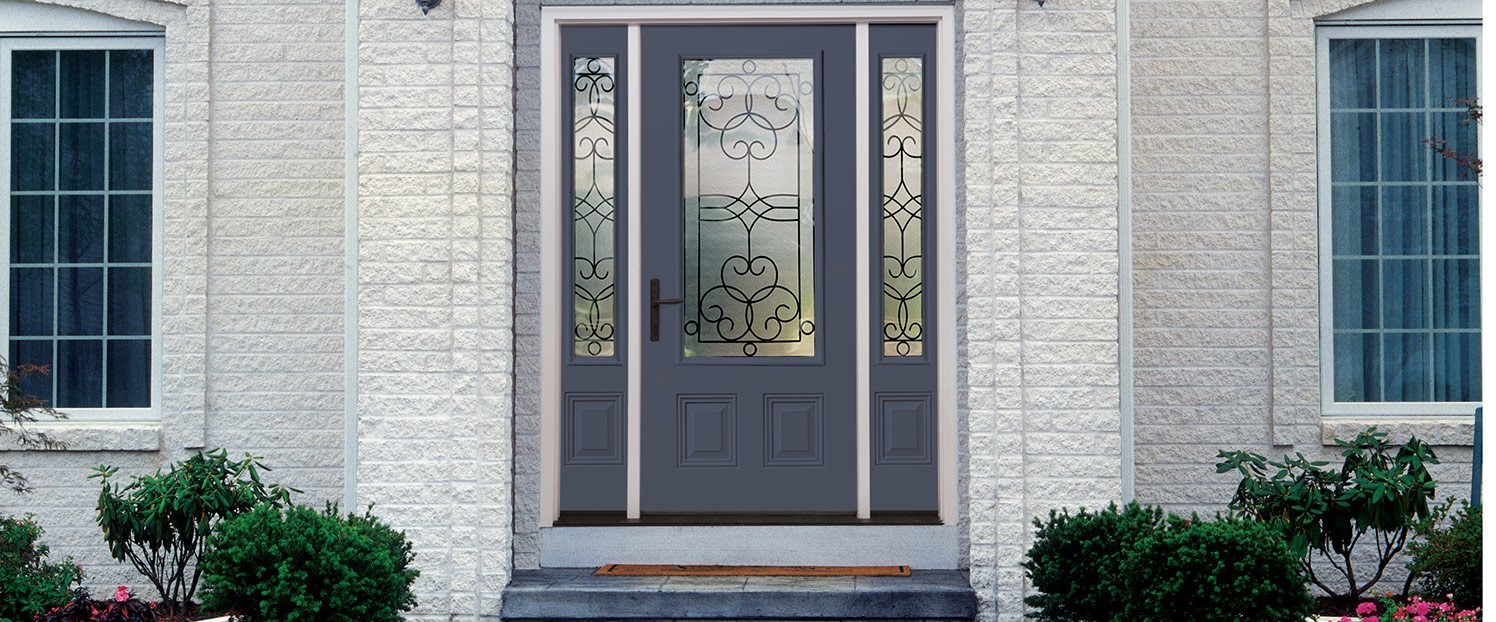 According to HGTV.com, steel entry doors are an energy-efficient and cost-effective solution. They require minimal maintenance and won't rot like their wood counterparts. They are also less expensive than wood or fiberglass entry doors.
High-quality steel entry doors can last a lifetime and come in a wide range of styles. They are constructed with a wood frame that holds insulation to make them energy efficient, and clad in epoxy-coated galvanized steel. The steel has a baked enamel finish that can be painted in a variety of colors. The energy-efficient core helps lower heating and cooling costs.
The downside? They can dent, paint can chip, and un-repaired scratches can lead to rust.
The upside? They are the most secure doors available.
Advantages
Energy efficient – offer good insulating value.
Less maintenance, depending on the environment – won't warp or rot like wood.
Can be less expensive.
Most secure.
Limitations
Easily dented and scratched – which can lead to rust.
Can only be painted, not stained – and paint chipping can be common.
Conduct temperature – can feel cold or hot to the touch.
Fiberglass Entry Doors
Fiberglass entry doors are the latest trend in front door options. They are made of composite materials clad in a fiberglass panel, with a grainy pattern to resemble wood. They also come in smooth finishes that can be painted or stained in your choice of color.
Like steel doors, they have an energy-efficient core to help lower heating and cooling costs, and are low maintenance. They don't rot, rust, warp or deteriorate over time.
Quality fiberglass entry doors, like Therma-Tru fiberglass doors, are crafted from the finest materials to accurately replicate the feel and integrity of a custom wood door. And while wood doors demand regular upkeep and refinishing, fiberglass entry doors require minimal maintenance, saving you time and money.
Advantages
Energy efficient – offer up to four times the insulating R-Value of wood.
Require minimal maintenance – won't warp or rot like wood, or dent or rust like steel.
Offer beautiful wood-grain or smooth finish looks – can be stained or painted.
Feel warm and inviting to the touch – like a real wood door.
Fiberglass & Wood Comparison Brochure
Limitations
Offer the best advantages of wood and steel – without the limitations.
So, what's the bottom line when it comes to steel vs. fiberglass entry doors? If it's in your budget, fiberglass entry door options are the best investment overall. They provide unmatched beauty and style (approximating the look and feel of wood), durability, energy-efficiency and resistance to scratches and dents. However, steel is a more affordable option that will also provide many of the benefits of fiberglass, and will stand the test of time.
For help choosing a front door to best match your budget and home style, contact the experts at Kelly-Fradet today, or stop by one of our showrooms and take a look for yourself. We look forward to seeing you!
Sources: https://www.thermatru.com/pdfs/Literature/FiberglassVsWoodBrochure.pdf, http://www.hgtv.com/remodel/interior-remodel/front-doors-wood-steel-and-fiberglass