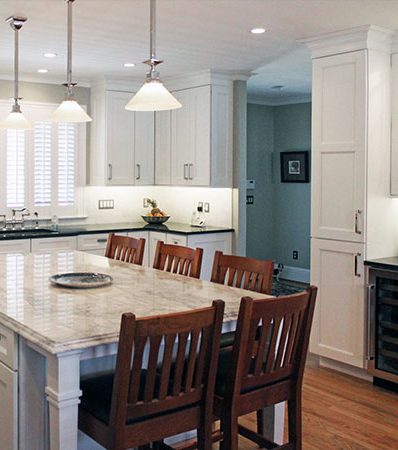 Kitchen Designer? 9 Reasons to Work with an Expert
Creating a kitchen design that your family will use and enjoy for many years to come is a great goal. Whether you're building from scratch or redesigning your current kitchen, it's important to plan a design that will serve your family's needs and wants. So, what are the benefits to working with a kitchen designer?
The great thing about working with a kitchen designer is that they already know all the mistakes and pitfalls to avoid, they can make helpful suggestions, and will work within your budget and space constraints to find the perfect kitchen design solution for you!
Here are 9 great reasons to work with a Kelly-Fradet kitchen designer:

1. Recommendations
A kitchen designer will recommend general ideas for use of space, location of appliances and storage priorities. We will introduce you to a variety of kitchen products and materials available for cabinetry, countertops, lighting and appliances. We will let you know what can be achieved – in the way of material selections, appliances, etc. for what you want to spend.
2. Specialized Skills
The kitchen is the most technically complex room in your home. It also is the most expensive room investment that you will make in your home. Designing a kitchen, making it work as well as it looks, requires specialized skills. A Kelly-Fradet Kitchen Designer is trained to assure that your kitchen will function well with the proper clearances, and that all aspects of your kitchen are safely designed and technically correct. Working with a Kitchen Designer assures that your kitchen is well planned and that there are no unhappy surprises!

3. Ideas to Brainstorm Off
Your kitchen designer can offer ideas to use as a jump pad for your own design brainstorming. Together, you can collaborate on a great solution that's unique to your home.
4. Planning Experts
A kitchen designer will plan the space, including exact cabinet sizes, cooking and seating clearances, and cabinet storage, providing a detailed plan for the builder to follow.
5. Considering Budget from the Start
Kelly-Fradet kitchen designers will keep your kitchen design in line with your budget from the very start of the project. This prevents the need for disappointing revisions to the plan later.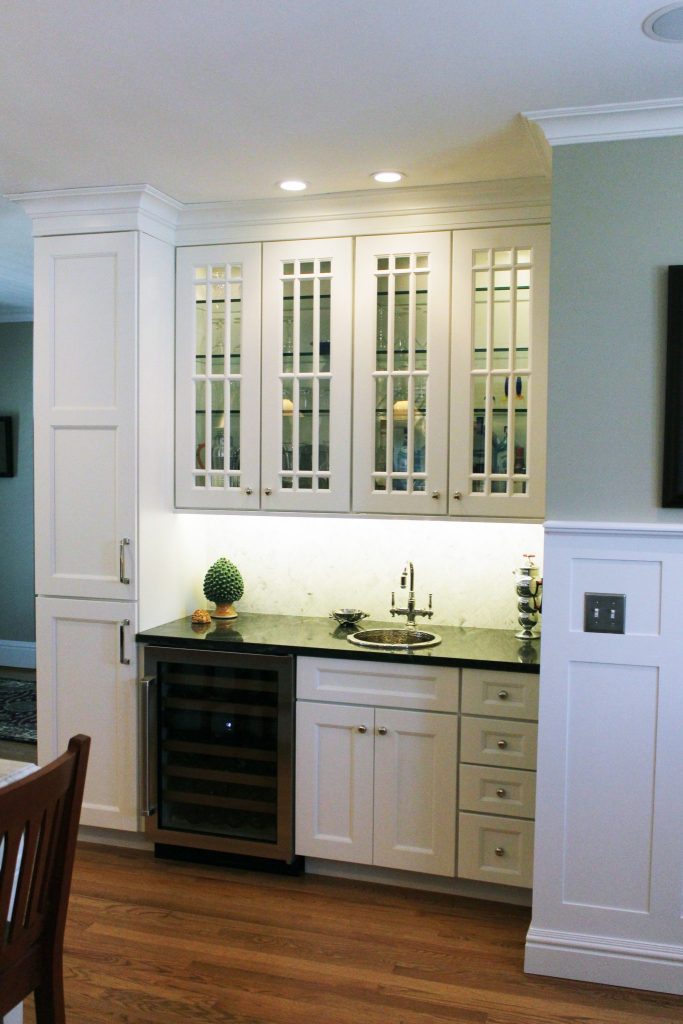 6. Keeping the Big Picture in View
Having 25 years of experience planning and designing kitchens definitely helps keep the big picture in view. Our experience assures that the material choices made for your new kitchen offer the best function and value for your kitchen investment.
7. Help Determining Price
Your kitchen project is the most significant investment you will make in your home. There are many factors that determine the price of a kitchen. The cost of your new kitchen will be determined by the quality of cabinetry selected, wood species or paint finish, doorstyle, drawer construction, cabinet height, molding details and selections of storage accessories. These decisions will be discussed with your Kelly-Fradet Kitchen Designer to determine which options best meet your quality, style and budget.
8. Matching Your Existing Home Style
In addition to creating a functional kitchen for your family to love, a kitchen designer will also help you navigate styles, hardware options, and material or finishes to best match your overall home style.
9. Somebody to Answer Your Questions
Maybe you're wondering if a counter island comes standard in a certain size, if your countertop surfaces are easy to maintain, or if there are appliance-garage options with those wall cabinets? No need to worry! Your Kelly-Fradet kitchen designer is here to answer your questions as they arise throughout the course of a project.
So, now that you know the benefits of having a kitchen designer help plan your kitchen, why not contact one today! Kelly-Fradet's designers can help you choose the perfect cabinet to complete your kitchen style. Stop in to our showroom today to browse beautiful Medallion cabinetry to match any style or budget!