10 Kitchen Design Ideas to Inspire You
A well-planned kitchen design will create a fun and functional space for many years to come. If you're thinking about redesigning your current kitchen, or if you're in the process of building a new one, giving some thought to the ideal design will pay off huge dividends in the future.
There are a few tried and true kitchen design ideas that you can fall back on, and there are also some new and unconventional ones to consider.
Here are 10 kitchen design ideas to inspire you and start your imagination:
1. Large Counter Island
Grand counter islands are more than prep areas – they also act as dining areas, entertaining centers, and cooking stations. More and more kitchens are incorporating these practical additions into the layout. Photo: Medallion Madison Raised Panel Maple Cottage White Coastal; island is Cherry Peppercorn Ebony Glaze and Highlight.
2. Open-Concept Kitchen
Kitchens that open into other rooms of the house – or even an entire floor of the house – are becoming more popular. They are visually appealing, create a sense of spaciousness and stimulate interaction between rooms. Photo: Medallion Bahamas Oak Cottage White Coastal; Brookhill Raised Panel Maple Castle Rock Sheer.
3. Arts & Crafts

Kitchens in Craftsman Style homes should exude personality, warmth and style. Achieve a sense of airy lightness with an innovative island or suspended lighting fixtures to draw the eye upward.
4. Shades of Grey
Clean modern kitchens capitalize on a symphony of greys, with metal hardware, stainless steel appliances and gray finishes. According to Fabuwood: "A refreshing take on neutral, grey can be the perfect choice because of its almost chameleon-like quality, and its wide range of warm and cool shades." Mix and match grey schemes to create the perfect kitchen island and cabinet combination. Photo: Fabuwood Allure/Galaxy/Horizon.

5. White with Nautical Blues
The crisp white and deep, nautical blue combination is used to great effect in this kitchen, with gleaming metallic touches and whimsical wall of windows over the sink. Photo: Medallion Loxley Flat Panel Gold and Bayside Platinum in Maple White Icing Classic and Custom Color "Old Navy."
6. Open Shelves & Contemporary Charm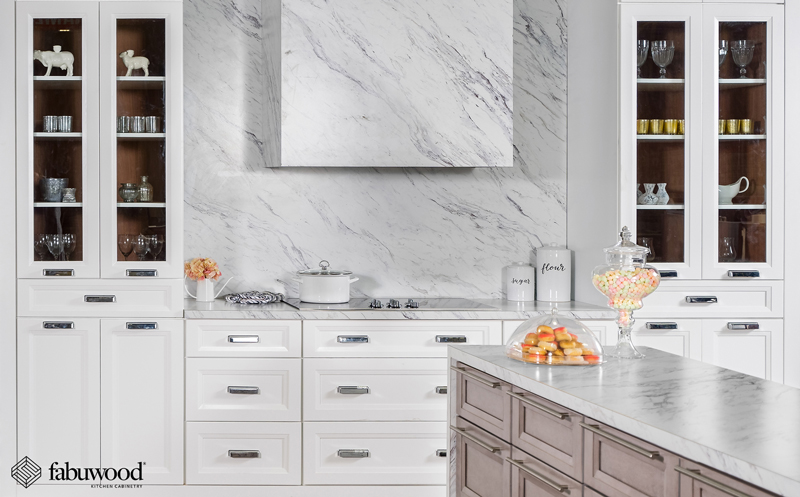 Consider combining some of today's best contemporary kitchen trends with the charm of a family home. Fabuwood Onyx cabinets enhance this kitchen's design, radiating a sophisticated and transitional look and feel. Consider bright, open cabinets and counter islands with contrasting cabinetry to give the room visual interest and helps set the island apart as a focal point. Photo: Fabuwood Allure/Onyx/Frost and Horizon..
7. White and Wood
Complementary wood species and finishes can be inviting. Here is a whimsical combination of alternating light and mid-tone cabinets. Photo: Medallion Valencia Flat Panel Maple Natural and Hazelnut; Sonoma Flat Panel Maple Morel Raw Umber Glaze and Highlight.
8. Red Highlights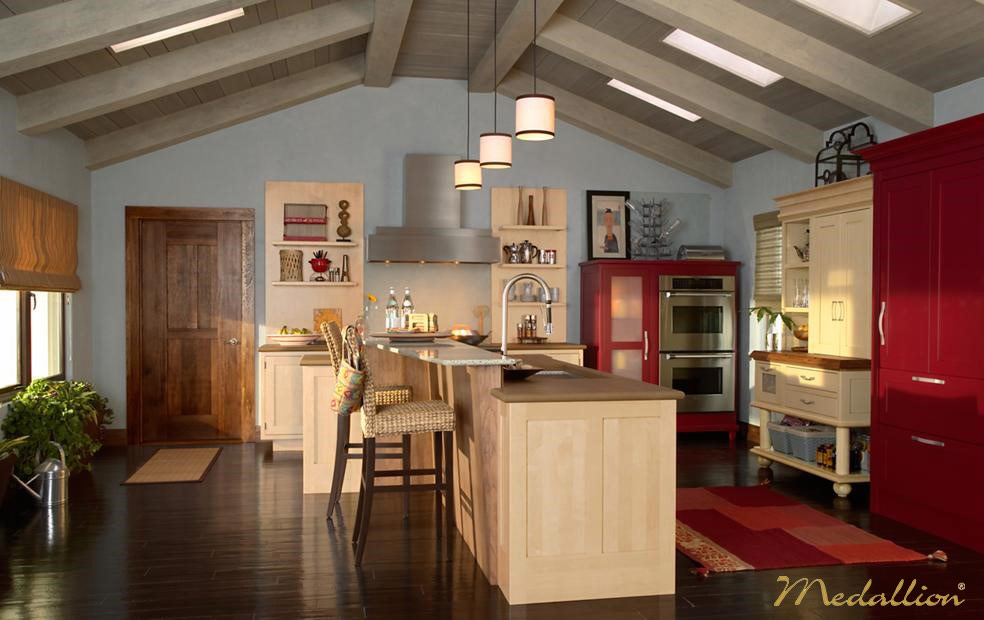 Make a bold statement with pale wood-grain cabinets paired with deep red cabinet pieces for pops of color against a blue and gray backdrop. Photo: Medallion Oasis maple Saffron Mocha Glaze and Highlight, Cayenne Sable Glaze and Highlight and Tumbleweed Burnt Sienna Glaze and Highlight.
9. Black and White
Sleek black cabinets paired with crisp white cabinets creates strong contrast and visual interest in this modern kitchen. Shiny silver hardware and gleaming stainless-steel appliances completes the look. Photo: Ellison Flat Panel Maple White Icing Pewter Highlight; Bella Quartersawn Oak Shale.
10. Classic White
Are you a lover of the classic, sparkling white kitchen? Install a white counter island and high, floor to ceiling white cabinets to enhance the look. Blue or grey tiles and dark light fixtures and stools add brilliant contrast. Photo: Medallion Devonshire Raised Panel Maple White Icing Classic and cherry Brandywine Ebony Glaze and Highlight.
No matter which kitchen design idea sparks your imagination, don't forget to make the kitchen your own. And, if you need tips or guidance at any point along the way, stop in to one of our locations today!
Sources: www.medallioncabinetry.com, www.housebeautiful.com, www.hgtv.com