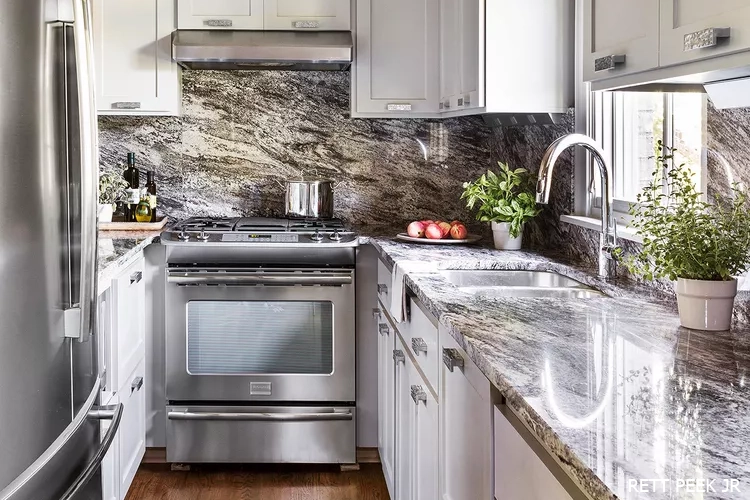 Designing the Perfect Kitchen with Granite Countertops
There's a reason granite countertops are such a popular choice among homeowners. This natural material is extremely durable, easy to clean and goes with virtually any kitchen style. With a natural resistance to heat, scratches and bacteria, granite is perfect for kitchens.
Endless Style Options
Granite countertops come in almost every color, including white, black, blue, red and gold. Pattern-wise, there are three options to choose from: solid, marbled and speckled.
Now that you know the basic style options, here are some ideas of how to incorporate granite countertops into your kitchen:
Keep it Simple: Solid granite is a great option for small kitchens, where a busy pattern may make the space feel even smaller. This pattern also works great for modern kitchens, where you want a strong, sleek surface that doesn't distract from the rest of the room.
Scale it up: For an elegant and upscale look, try marbled granite, which mimics natural marble.
Draw the Eye: Speckled granite works well with simple cabinets and stainless steel appliances. You can even match your cabinet or tile to colors within the granite.
Mix and Match: Not ready to go all out? Use granite for high-use areas such as the island, and less-expensive materials for auxiliary countertops.
Add a Backsplash: Granite's durability and easy-to-clean qualities also make it a great choice for backsplashes.
Create Contrast: Using black granite with white cabinets (or vice versa) is a simple way to create visual interest in your kitchen.
Ease into it: For something less bold, select a countertop color that is a happy medium between your cabinets and your backsplash.
Finishing Touches: Adding a glossy finish to your granite countertop is a great way to open up a small kitchen- light will reflect off the countertop and make the room feel more spacious. Glossy granite countertops are also easier to clean than those with a matte finish.
Cleaning
Granite countertops are low-maintenance and can be wiped down with a mild dish soap and water, or a cleaner made for granite. Avoid using acidic cleaners, such as vinegar and lemon juice, as these can damage the stone. To keep your countertop looking beautiful for years to come, have it resealed annually.
Ready to start designing the kitchen of your dreams? Stop by one of our showrooms to speak to a design expert today!