5 Creative Kitchen Cabinet Layout Ideas
Galley style, U-shaped, L-shaped or counter island kitchen? If you're in the middle of planning a brand-new kitchen, or contemplating a kitchen remodel, then you've likely been exploring kitchen cabinet layout options like these.
There are tried and true kitchen cabinet layouts, but more and more "outside-the-box," options are trending as houses incorporate creative approaches to kitchen design. Larger kitchen spaces can include more than one counter island to increase work and storage area, and employ creative ways to bridge adjoining rooms. And those smaller kitchen spaces depend on thoughtful approaches to the one-wall or galley-style kitchen layout.
Here are 5 creative kitchen cabinet layout ideas for a variety of kitchen spaces:
1. The "Flattened" U-Shaped Layout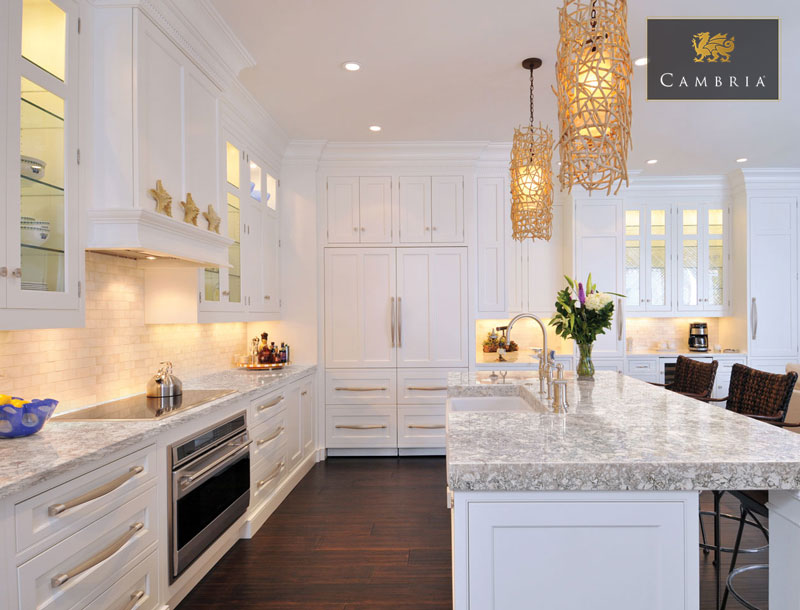 The common U-shaped kitchen cabinet layout is practical and intuitive. Squashing the U-Shape format allows for more counterspace and the addition of an eating bar. This kitchen layout from Cambria depicts a wider, flatter U-shape layout that adds a long quartz countertop with elegant drawer cabinets and stove on one side, and a beautiful Cambria counter island that houses a kitchen sink on the other. This layout facilitates meal prep and cleanup, and creates an eating bar for family and guests to participate or watch.
2. Incorporating Two Islands
Is there anything better than the prep space and storage provided by a counter island? How about two? Yes, with kitchens growing larger these days, it's not uncommon to see kitchen cabinet layouts that accommodate a pair of counter islands. This layout can be used to create a pair of cooking stations for households with more than one resident chef. Here's an example of a double-island kitchen from Medallion Cabinetry.
3. One-Wall Kitchen Layout
A single wall kitchen opens up the space for a long counter island breakfast/seating area and can work to improve functionality. Consider ample cabinet storage, prep surfaces, stove, and refrigerator, and a counter island that houses a convenient double sink.
4. L-Shaped Counter for Seating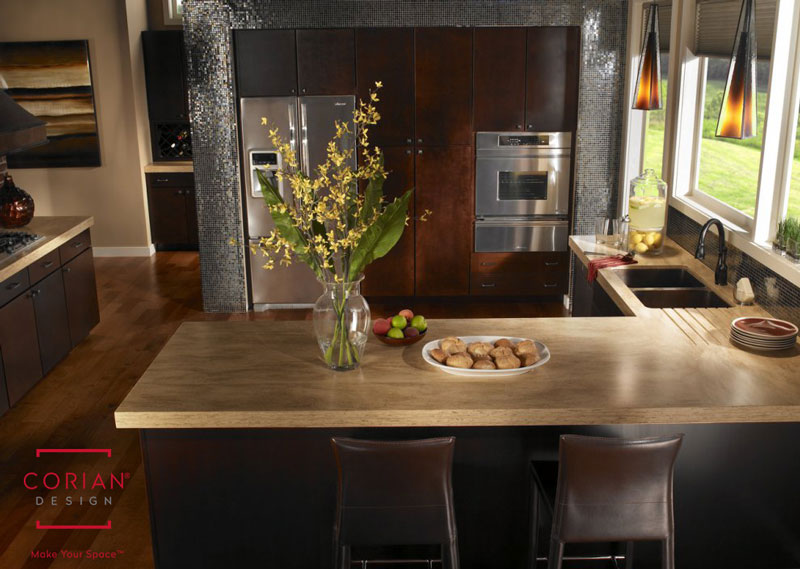 Smaller kitchen? For smaller spaces, single counters can serve double-duty. Not only can you create a seating area from a counter island, you can also create a seating area slash breakfast bar with an L-shaped counter layout. This beautiful Kitchen Smoke countertop by Corian shows how to create a multi-functional work/prep area that also doubles as a breakfast bar with stools.
5. Gleaming Natural Quartz Centerpiece
If you want to make a bold visual statement with your kitchen cabinet design, consider making the counter island a dramatic centerpiece. Using a neutral color for your cabinets, try installing a gleaming natural quartz countertop island, like this one from Cambria.
These are only a few of the options available for kitchen cabinet layouts! It's important to remember that many layout choices are dictated by the specific advantages and limitations presented by your exact kitchen space. Smaller kitchens present different challenges than larger kitchens, and vice versa.
No matter the size of your kitchen, there's a kitchen cabinet layout solution for you! Working with an expert kitchen designer is a great way to determine the perfect kitchen design to match your family's needs and overall home style.
---
Planning a new kitchen or kitchen remodel? The experts at Kelly-Fradet can help you make the perfect design choices, and have a wealth of knowledge to draw on during your kitchen design process.
Stop in to our showroom today to browse beautiful Medallion cabinetry options to match any style or budget!