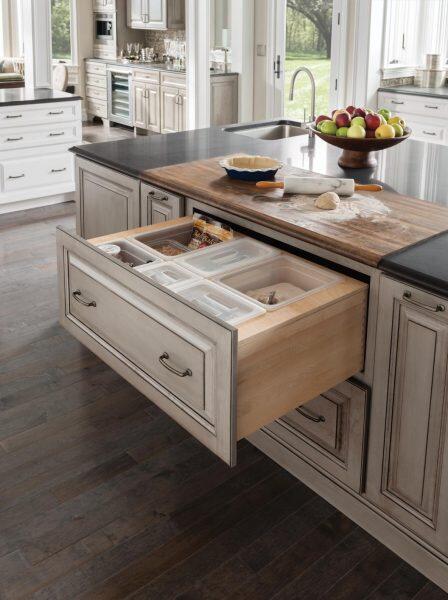 Medallion Cabinetry: 3 Tips for Planning Your New Kitchen!
What does planning a new kitchen look like? Customer Patty Flynn describes her experience working with Kelly-Fradet Kitchen Designer, Diane Badger:
"With Diane's expertise, we were able to design a beautiful kitchen with all the amenities for our casual lifestyle. We have a large extended family and knew we need an open area with an island for easy living and lots of counter space for entertaining and cooking. Diane was able to incorporate my many specific requests seamlessly into a wonderful design and give us exactly the kitchen that we wanted. The process was a fun and wonderful experience!"
With proper planning, kitchen design can be a fun, rewarding experience with lasting benefits. If a kitchen remodel tops your to-do list, here are a few tips to help with planning.
According to Medallion Cabinetry, the first step is to "identify why you want to remodel a space. Is it to provide more storage? Improve workflow? Make it more multi-purpose? Understand your unique reasons and use them as a guide in decision-making."
1) Planning Your Project –
Collect tons of ideas. Ideas can come from anywhere, like magazines, social media sites, television shows, or even art pieces that inspire. Transformation should come from your inspiration.
2) Identifying Needs –
Make a list of all the things you like about your current room, and a separate list of the features you dislike about the room, and why. When sitting down with your designer, these lists will help shape the design.
3) See How They Work –
Interact with kitchen installations at your local Kelly-Fradet to learn how Medallion Cabinetry helps you maximize the interior space of your new cabinets.
Visit Kelly-Fradet to learn more about each Medallion product line or to browse our selection.
Source: https://www.medallioncabinetry.com/planning-tools/getting-started/