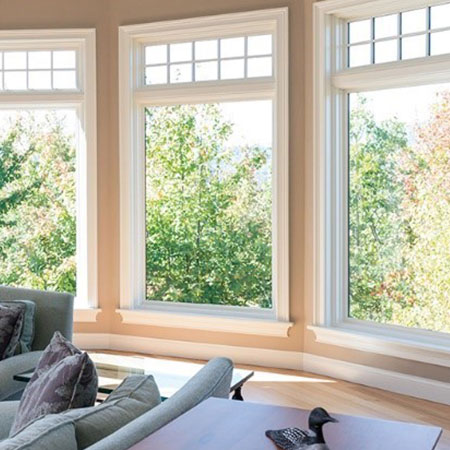 Choosing Window Styles to Match Your Home
Choosing windows that are well-made and energy-efficient is a great way to improve your home's heating costs over the winter (and cooling costs in the summertime)! In addition, choosing window styles to match your home style will also contribute to the overall beauty of your home's exterior, increasing curb appeal.
Just like your home furnishings, windows come in a range of style options and sizes, from standard to custom options. They come in single hung and double hung, as well as single-pane and multi-paned varieties, with a range of grille styles options. In addition, the frame, trim, sash and shutters come in different materials and styles, and are customizable by color. As you can see, the possibilities are endless!
Here are a few tips for choosing window styles to match your home style:
Don't Reinvent the Wheel
As a rule, it makes sense to use common style conventions as a jumping off point when choosing windows to match your home style. After all, these window style choices work harmoniously when paired with standard home styles, so why reinvent the wheel?
In this blog, we'll cover window suggestions for two popular New England home styles, Cape Cod Style and Craftsman Style.
Cape Cod Style Windows


If you're choosing window styles for a Cape Cod home, you should consider multi-paned double-hung windows with shutters, as well as small 'prayer' windows for gable corners. Andersen Windows suggests white window exteriors and white exterior trims for a classic Cape Cod style home look.
More recent Cape Cod style examples often feature other colors, although they generally stay within the lighter tones. Darker colors are less common in Cape Cod homes, but they are occasionally used to nice effect. Shutters are most often seen in darker colors.
Craftsman Style Windows
For a Craftsman Style Home, double-hung windows with stained wood interiors are predominant, but casement windows are also common. The windows are typically vertical in proportion, although single-opening accent windows do not always follow this rule.
Andersen Windows suggests using the same color for window frame and sash, with a contrasting color for the window trim. The window frame and sash color is usually close to the home's siding color. Grilles are used in the upper windows and are vertically proportioned or square. Grilles are never horizontal, even in accent windows.
Know Your Home Style
Home styles are a great jumping off point, even if you want to deviate from traditional style elements. Therefore, it helps to become familiar with your home style.
Learn more about the two home styles described in this blog by downloaded our free, detailed guides on the home style guides page.
Looking for suggestions or guidance choosing windows to match your home? The experts at Kelly-Fradet can help you make the perfect choice, and have a wealth of knowledge to draw on during your design process.
Stop in to our showroom today to browse beautiful Andersen Window options to match any style or budget!