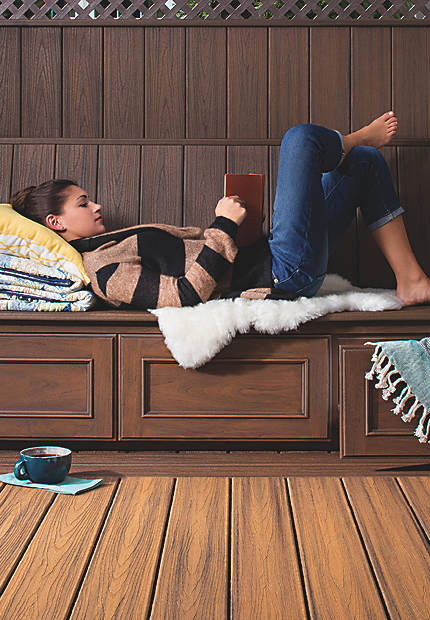 9 Cool Deck Designs that Add Seating
The backyard deck is an extension of your home's living space that is accentuated by Mother Nature. It frames the view, helps bring the outdoors inside, and invites outdoor parties and gatherings. There are many cool deck designs to choose from that will add seating and help divide the space into gathering hubs. At its best, your deck design will create a multi-functional environment with ample seating for guests, and stations for socializing, preparing meals, reclining or sitting, and possibly soaking in a pool or hot tub.
It helps to consider the ultimate function of your deck carefully before beginning your layout. Then you can design and build with the final function of your deck in mind.
Check out these 9 cool deck designs that add seating to keep the party growing:
1. L-Shaped Benches

Got trees? Instead of removing a tree before building your deck, why not incorporate it into the design itself! You can make a gorgeous tree the focal point of your deck with a built in bench surrounding it, like this bench featured on bhg.com:
"Built-in outdoor benches like this one provide plenty of seating for al fresco entertaining. Built around an established fir tree, it contributes to the structure's clean, angular sensibility, and the linear slats quickly disperse rain."
Tip: Try contrasting colors, such as lighter wood tones for flooring and benches combined with dark or black railing for a vibrant visual effect.
2. Curved Benches
Want to think outside of the box? Highlight the organic curves of a multi-level deck by adding built in seating to the curve of a lower level. This Trex deck features "rounded" seating that's perfect for large groups who want to gather around a fire and swap stories or toast marshmallows away. And creating a lower-level wrap-around bench allows guests to gather in a dedicated area away from the foot traffic of upper levels.
Tip: Adding potted plants or built-in planters will enhance the organic feel of your curved deck!

3. Low Benches

Low benches like this one featuring on bhg.com serve double-duty as convenient seating and edge barriers for ground-level, railing free decks. They also provide for a less obstructed view of lawns, gardens and other natural elements.
Lower-level decks can connect your home to your garden or green space in a natural, seamless way, because they are already on ground level.
Tip: You might consider building a stone path from your deck into the gardens to further accentuate their connection

4. Built-In Table

Do you plan on doing a lot of outdoor cooking, dining and foodie entertaining on your deck? You may want to consider a plan that incorporates a permanent dining room table!
Think about placing the table near or convenient to the cooking station for easy serving. You might also consider a table made of low-maintenance composite materials, like the Trex deck featured here (showing Trex Transcend).
Tip: Adding candles, planters and table centerpieces will create a cozy feel to the entire cooking station and dining area.


5. Cozy Built-in Benches

Want a place on the deck to take a quick snooze? Built-in benches (like this Trex Transcend deck) leaves room for weatherproof cushions. These sunken benches create cozy lounging areas that can also be used as hidden storage.
The colors and patterns of your cushions can help to harmonize the color-scheme of your deck. Think about bold color and prints to contrast with neutral or dark decking tones.
Tip: Add an excess of colorful pillows to your built-in benches to create a cozy feel and to encourage your guests to relax and make themselves at home!

6. Perimeter Seating

Really frame your deck's perimeter like this highlighted on HGTV.com.
Seating made of composite decking is easy to maintain, durable, and comes in a wide variety of colors to match your home style. Notice how this curved, low-level deck matches the home's siding and contrasts nicely with the dark greens of the lawn and shrubbery beyond.
Tip: Think about built-in planters that match your color scheme, as well. You can easily add a pop of color with flowers. Not a fan or pink? No problem! This "floral color palette" can change all season long!

7. Modern Lounge Area

Are you a fan of upscale spa resorts? Then you might want to consider a design like this Trex deck made of a fireplace wall covered with mixed-material pergola that is abutted by lounge style seating.
This modern deck design features deep, built-in seating with plenty of storage below, making it ideal for smaller spaces. The built-in fireplace wall also provides a privacy screen for a shared backyard.
Tip: Think about adding a built-in lounge area next to your hot tub or pool to complete the spa resort feel.

8. Corner Eating Nook

For the deck that serves as a breakfast gathering space, a great way to create intimate seating is with a corner built-in that backs against the view. This deck (featured on bhg.com) is made with natural-toned wood to harmonize with the wooded backyard beyond.
You'll notice that the corner "eating nook" is raised onto a slightly higher tier to provide a separation from the main table below.
Tip: Decks without pergolas, canopies or other coverings are ideal for shaded backyards, or spaces where direct sunlight is limited during the hottest parts of the day.

9. Seating Built Around a Hot Tub

Instead of sinking a hot tub below a raised deck, you can create raised seating around a hot-tub for an attractive effect, like this deck featured in HGTV's "Amazing Deck Designs" article.
This deck also highlights the organic shape of the mountains beyond with both the circular movement of its perimeter and the curve of the hot tub seating.
Tip: Consider adding a square pergola atop a rounded deck to add visual interest and contrast.
Sources: https://www.thisoldhouse.com/ideas/17-stunning-decks-to-inspire-your-backyard-transformation, https://www.bhg.com/home-improvement/deck/ideas/outdoor-seating/, https://www.hgtv.com/remodel/outdoors/amazing-deck-designs-pictures, https://www.hgtv.com/remodel/outdoors/deck-design-ideas-pictures
Looking for more tips, ideas and guidelines for your deck design? Check out our helpful Deck Design Guide!