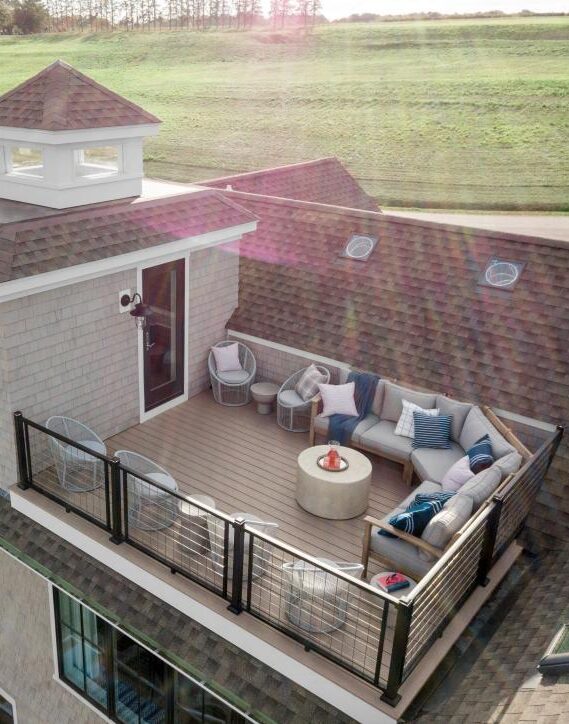 Your Trex Composite Deck: Beautiful, Durable and Better for the Environment
Always Green!
Trex® makes eco-friendly composite decks from an innovative blend of 95% reclaimed wood and plastic film—that's almost the whole thing. On top of that, their company uses some of the most earth-friendly manufacturing processes in the country, reclaiming factory waste and eliminating the use of harmful chemicals. Trex offers consumers a truly environmentally responsible choice.
Being green is in their DNA. Trex has been this way for more than 20 years, well before green was a buzzword. Because in the end, we all want to look out on our decks and know that we've done our part.
What makes a Trex® Composite Deck a Green Deck?
1) Reclaimed Wood
Locally sourced reclaimed wood that would otherwise end up in a landfill finds its way into Trex high-performance composite decks. By using reclaimed sawdust, we never have to cut down a tree to make our products. Ever.
2) Recycled Plastic Film
The reclaimed wood in our decks is combined with recycled plastic film from a variety of sources ranging from the overwrap on paper towels to dry cleaner bags, sandwich bags, newspaper sleeves, and grocery and shopping bags. Here's an interesting fact: the average 500-square foot composite Trex deck contains 140,000 recycled plastic bags! That makes us one of the largest plastic bag recyclers in the U.S.
3) Sustainable Supply Chain
Trex takes an active role to ensure our supply vendors operate with ethical and responsible business practices. Approximately 95% of our supply vendors are based in the U.S. We conduct supply chain assessments, including in-person reviews, operating facility tours, and work with our suppliers to reduce environmental impact across the supply chain. As a result, we make it a practice to use post-consumer and post-industrial content wherever possible.
4) The Big Picture
Trex works along with other U.S. Green Building Council members to transform the way building and communities are designed, built and operated with the goal of creating environmentally and socially responsible spaces that improve the quality of life.
Source: https://www.trex.com/why-trex/eco-friendly-decking/
Only Trex high-performance composite offers you the full package: exceptional environmental responsibility, beautiful aesthetics and top-notch performance. Visit your local Kelly-Fradet location to browse our selection of Trex Composite Decking or to learn more.