Why Some Builders are Choosing ZIP System Fluid-Applied Flashing
To obtain the best structural, weather and air leakage protection out of ZIP System sheathing and tape, consider ZIP Liquid Flash. Fluid-applied flashing materials have gained popularity alongside the trend in tighter building enclosures.
When flashing applications call for maneuvering around corners and curves, more and more teams are turning to fluid-applied flashing for ease of installation and assurance of continuous coverage.
Here are a few reasons pros tell Huber Engineered Woods they are making the switch to ZIP System™ liquid flash:

Flashing Recessed Windows
While newer tape innovations like ZIP System™ stretch tape can eliminate the origami of multiple tape segments around sill pans, for more complex installs on recessed windows, for example, ZIP System liquid flash flows into every crevice to create a smooth, continuous flashing membrane between the transitional levels of a recessed window sill.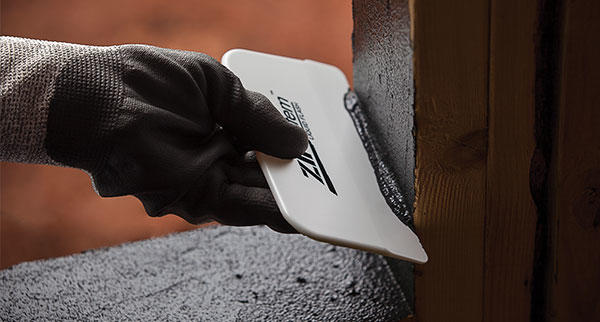 Sealing Transitional Details
Sealing the connection between the foundation and wall system can be difficult, and not all tapes are created equally. Depending on the type of adhesive backer used, tape may not adhere to all substrates. That's why builders have switched to fluid-applied flashing on this transitional detail.
ZIP System liquid flash is designed to chemically bond two materials together, so there's little chance for air or water leaks in this important area of the enclosure that is gaining more and more attention from teams building to net-zero standards.
Source: https://www.huberwood.com/blog/why-some-builders-are-choosing-fluid-applied-flashing