Why Choose 400 Series Double Hung Windows from Andersen?
Andersen's combination of sophisticated engineering and high-tech craftsmanship make it a leading brand for double-hung windows. Beyond stylish looks and proven performance, Andersen 400 Series windows have many features that make them stand out against the competition. What defines a winning combination? Wood with a vinyl exterior to resist water and seal out the elements, plus energy-efficiency that's built into every window. No wonder it's their best-selling double-hung window.
Whether you're renovating your home or building from the ground up, we have high-performing, dependable Andersen products for any style, any project, and any budget.
Here are our top 3 reasons to consider 400 Series Double Hung Windows for your home or project: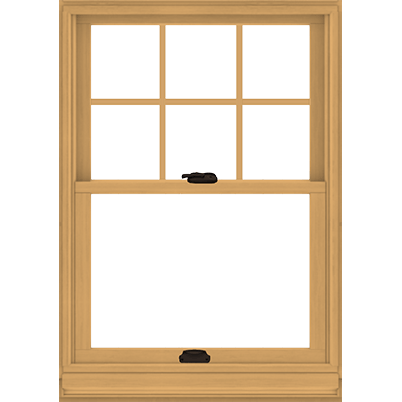 1) Easier Tilt-In
Andersen 400 Series double hung windows feature "wash assists" that make it easier to tilt-in for cleaning. Simply slide the window up to the wash assist and pull forward. Without this key feature, it's harder to tilt-in your windows and makes cleaning windows more of a chore.
2) Superior Water Management
The sight of Andersen 400 Series sash is factory finished all the way to the exterior, creating a protective barrier from the elements. Windows that don't take this extra step, means moisture and humidity can seep in. This means your windows can rot over time.
3) Built-In Weather Stripping
Andersen 400 Series windows are engineered with built-in weather stripping that locks in with our compression jam liner. This helps keep air and water outside, so comfortable temperatures stay inside your home. Not having this feature can leave a gap where air and water can leak into your home.
4) Exterior Trim Options
Exterior trim adds a finishing touch to your windows or doors and is often essential in achieving authentic architectural style. You can match the color of your windows or doors or complement them with a different color.
The choice is clear. Choose Andersen 400 Series windows at Kelly-Fradet and experience the difference.
Visit your local Kelly-Fradet to learn more about Andersen Windows or to browse our selection.
Source: https://www.andersenwindows.com/windows-and-doors/windows/single-hung-and-double-hung-windows/400-series-tilt-wash-double-hung-window/