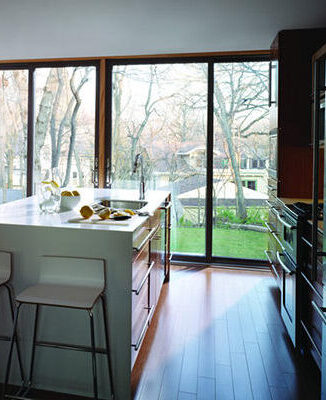 Why Choose 200 Series Gliding Patio Doors from Andersen?
Do you want to amplify your outdoor living space? Patios are a great extension of your inside living space – especially when they're flooded with light and fresh air! We recommend Andersen 200 Series Gliding Patio Doors for low-maintenance, durable doors that stand up to the elements and give homes a contemporary look.
200 Series products deliver Andersen quality at an uncommon value. Built with the right materials in the right places, they offer durability, long-term beauty and options to fit your project needs. And like all Andersen® products, they are supported by over 115 years of commitment to quality and service that can only come from one of the most trusted names in the industry.
Here are our top 3 reasons to consider 200 Series Gliding Patio Doors for your home:
Low-Maintenance
Andersen 200 Series gliding patio doors feature wood protected by vinyl interior and exterior. The exterior frame is covered with this rigid vinyl which maintains an attractive appearance while minimizing maintenance. In addition, the wood frame is treated with a water-repellent preservative for long-lasting protection and performance.
A flexible vinyl weather-strip provides a positive seal between the frame and panels.
The sill has an anodized aluminum track with a stainless-steel cap that resists stain, rust, and denting. A thermal barrier reduces conductive heat loss and limits condensation on the inside.
Enhanced Security
The unique Andersen® reach-out locking hardware pulls the door panel snugly into the jamb for a weathertight seal and enhanced security. Plus, blinds-between-the-glass on Perma-Shield gliding patio doors offer privacy and convenience!
Energy Efficiency
Weather-resistant construction for greater comfort and energy efficiency is built into every door. Perma-Shield gliding patio doors are protected inside and out with rigid vinyl cladding to give your home a contemporary look and energy-saving performance. This offers superior weather resistance for doors that are virtually maintenance free.
There are options to help you meet the performance level you need, including a variety of Low-E glass options available to help control heating and cooling in any climate.
Sources: https://www.andersenwindows.com/windows-and-doors/doors/sliding-patio-doors/200-series-perma-shield-gliding-patio-door/; https://www.andersenwindows.com/ideas-and-inspiration/why-andersen/energy-efficiency/; https://awwebcdnprdcd.azureedge.net/-/media/aw/files/brochures/2020-literature/200s-patio-doors-info-sheet.pdf?modified=20200206175223