PVC Trimboards & Sheets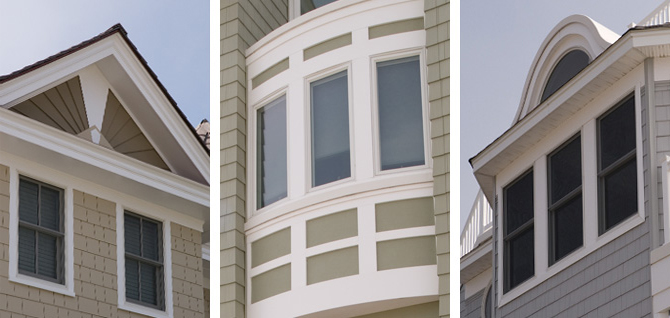 PVC Trimboards and Sheets
Palight trimboards offer reliable wood that doesn't rot, fade or split, and it holds its beautiful appearance for decades. Available in typical wood profiles sizes, architects and builders can easily incorporate it into nearly any trim project for a beautiful and lasting finish. There are several reasons to choose Palight for your trimboards and sheets.
Keep it clean from production through construction with our EverClean™ Protective Film
Cut it, shape it, fasten and paint it easily
Free foam PVC with smooth edges and consistent, uniform dimensions
Low maintenance—impervious to moisture, rot or insects
Long-lasting durability and beauty
Available in standard and ProFinish™ profiles
Palight Trimboards vs. Wood
When comparing Palight trimboards to traditional wood trim, it's easy to see the benefits of the product:
What is EverClean?
10 years ago, Palight became the first brand to have protective film on every single trimboard, which Palight refers to as its Everclean™ protective film. Instead of having a messy job site after completing a new deck or another home improvement project, Everclean™ protective film saves any time and effort spent on cleaning up a job site. To use it, you can install it with the film on, and you can cut or nail through it. Once your project is finished, you only need to peel the film off and paint.
Typical After-Job Cleanup
Hire a cleaning crew—or clean yourself
Wash trim with soap or solvent
Hide flaws with paint or putty
Pack up all cleaning supplies
After-Job Cleanup with EverClean Protective Film
Peel off the Film
Calculate your time and money savings
Start your next job sooner
For custom lengths and sizing options, contact a staff member at Kelly-Fradet.