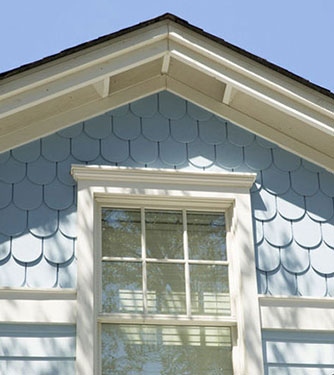 Find Inspiration for Re-Siding Your House from James Hardie
Why Re-Side?

There are several reasons to re-side your home: Your home's exterior looks old and tired; you are fed up with frequent maintenance and are seeking other siding options; or, your home has been damaged by a storm.
The beauty of embarking on a re-siding project is that you have a chance to re-invent your house by choosing a new color, a different siding texture, or adding more details, such as shingles or additional trim. James Hardie® offers an array of siding and trim products from which to choose. But don't feel you have to make a drastic change. You may be fine with the color of your house, for example. Just by choosing a durable material you are making a great investment in your home.
Add Curb Appeal

Siding can make all the difference when it comes to adding curb appeal, whether your goal is to transform your house or simply refresh it. Available in dozens of textures and colors, James Hardie siding and trim products can help you take your house in any direction you choose.
First, Get Inspired!

Drive around your community and snap photos of home exteriors you like. Make a Pinterest board of your favorite home styles and colors. Browse real Hardie homes in our Photo Showcase and save images to your My Idea Center. Search James Hardie products and experiment with Home Color Tool for more inspiration.
Sources: https://www.jameshardie.com/start-your-project/tips-for-re-siding-a-house; https://www.jameshardie.com/start-your-project/tips-for-re-siding-a-house/gather-info
Visit your local Kelly-Fradet to browse our selection of James Hardie siding, or to learn more.