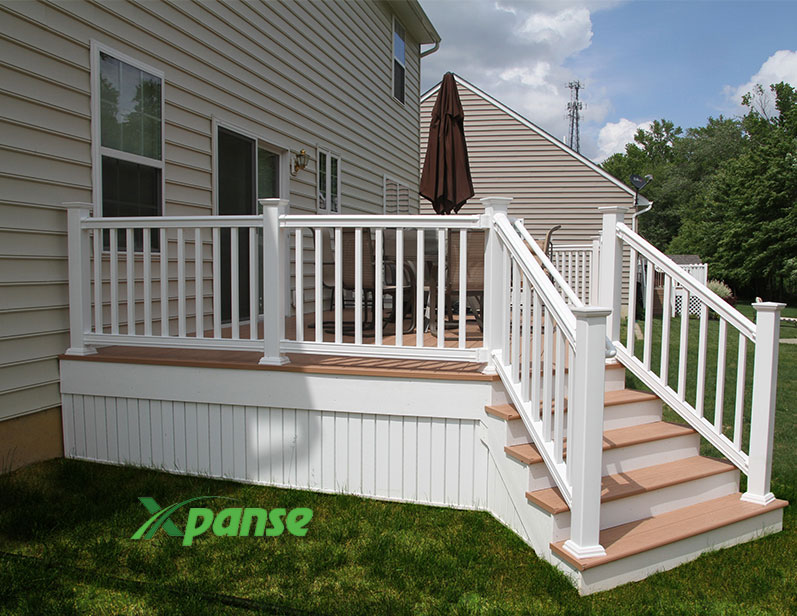 How Does Deck Railing Impact Your Deck Design?
The railing system you choose can have as much impact on your backyard design as your decking material. It defines your deck perimeter, provides safety and lighting, and supports your style and color choices. You can further enhance your deck, patio, or porch with a wide variety of lighting options. LED lighting accessories can be used with vinyl or aluminum railing systems. Add decorative solar or LED lighted post tops for ambiance.
It sure doesn't sound beautiful if your railing rattles and squeaks. Cut the noise and install the strength and beauty of the Barrette Premier Series Railing. The elegant top rail makes Premier Rail ideal for front porch or back deck applications that require low-maintenance and the look of hand-painted wood.
Premier Series is the strongest and most beautiful vinyl railing product available, thanks to Composicore® – a precision-engineered polymer containing no wood fibers or components, making it the most water-resistant core available.
Time-consuming maintenance problems like splintering, staining and removing mold and fungus are in the past. This code certified railing system features an extensive collection of posts, tops and base trims, as well as an attractive gate kit.
Kelly-Fradet is proud to carry Barrette Premier Series vinyl deck railing.   Visit us today to learn more.