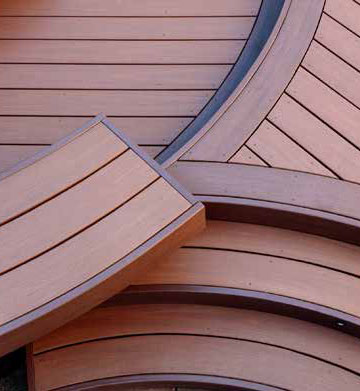 Why is TimberTech AZEK Decking 100% Smarter than Wood Decking?
For starters, TimberTech AZEK® decking  is designed to last beautifully. Unlike wood decking, TimberTech AZEK's capped polymer decking is low-maintenance and durable, meaning you don't have to put up with the drudgery of staining your deck for protection.
Although traditional lumber still attracts many home owners, the appeal often fades as quickly as the wood does. Without frequent and necessary maintenance, pressure treated wood decks can splinter, warp or cup—and this can happen quickly without annual sealing and staining for protection. In the long run, wood decks become an expensive and time-consuming addition to a home.
With an enhanced real-wood look and strength backed by Alloy Armour Technology™, TimberTech AZEK's capped polymer decking materials are top of the line in quality and beauty. Their teams of scientists and designers have engineered high-performance decking materials that withstand the test of time and nature with unparalleled beauty. It resists scratching, fading, mold, mildew, and moisture damage. Plus, it come with a limited 30-year fade & stain warranty and a limited lifetime warranty against material defects, termite & rot damage.
Have a particular style in mind? With an enhanced real-wood look and vast array of color choices, there's a perfect match for every style! TimberTech AZEK decks artfully blend science and style to create beautiful, long lasting outdoor spaces to perfectly match your preferences. Visit your local Kelly-Fradet location to browse our selection of TimberTech AZEK decking, or to learn more.