A-Series Double-Hung Windows: Better Ventilation, More Natural Light
Consider Window Ventilation
Andersen's A-Series double-hung windows can help you breathe better all year long.
You spend most of your time in your home, which is why it's very important to make sure the air quality in your home is the best it can be. Sometimes, the air within a home can be far more polluted than the air outside. EPA studies show the level of indoor pollutants may be two to five times higher than outside air.
Ventilation helps your home rid itself of moisture, smoke, cooking odors and indoor pollutants. Natural ventilation is a great alternative to air conditioning in moderate climates.
Enjoy more fresh air and natural light in your home with TruScene insect screens. This patented screen is made with micro-fine stainless-steel mesh that lets in over 25% more fresh air and provides 50% greater clarity than conventional Andersen insect screens, all while keeping out unwanted small insects. Available with Stone or White frames or with pine veneer frame interiors to blend with the wood interior of the window.
Increase Natural Light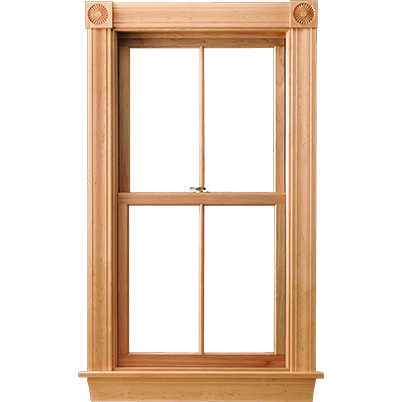 One of the most effective ways for improving the interior environment and occupant health is by strengthening connections to the outside.
Sunlight naturally reduces mildew and mold growth while providing numerous health and wellness benefits:
1) Boosts Vitamin D
Andersen's A-Series windows can help you bring in the sunshine!
As we spend more time inside, sitting by an open window can help provide the necessary sunlight needed to help our bodies produce Vitamin D, which is essential for promoting bone growth and maintaining good health.
2) Promotes Higher Productivity
According to a Swiss Federal Institute of Technology study, employees working in artificial light recorded lower levels of energy than those working in natural light.
3) Promotes Sleep
Daylight plays an important role in helping us maintain our circadian rhythm. During the day, sunlight tells our bodies to suppress melatonin creation. At night, when there is no light, the release of melatonin helps us sleep.
4) Improves Mood and Energy
Daylight tends to make people feel more cheerful and energized. A lack of sunlight can lead to Seasonal Affective Disorder (SAD), resulting in feelings of gloom and low energy.
Visit your local Kelly-Fradet to learn more about Andersen Windows or to browse our selection.
Sources: https://www.andersenwindows.com/windows-and-doors/windows/single-hung-and-double-hung-windows/a-series-double-hung-window/; https://www.andersenwindows.com/ideas-and-inspiration/make-your-home-a-healthier-place-to-live/