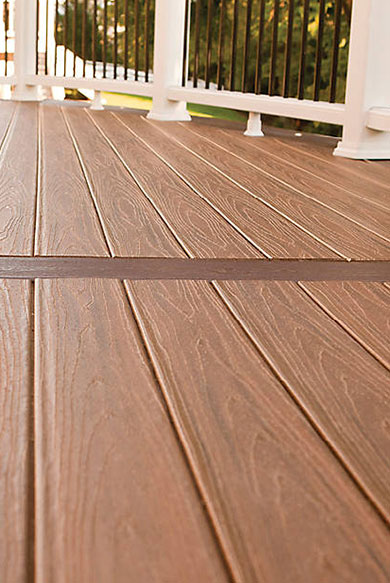 3 Ways Trex Outdecks PVC
While many outdoor enthusiasts love the look of wood, more and more people are turning to wood-alternative decking materials like high-performance composite and PVC. The reason is clear: wood-alternative decks last longer and need less maintenance than a rot-, warp- and splinter-prone wood deck. But when it comes to PVC vs. composite decking, composite trumps PVC in performance, appearance and more.
Here are 3 ways Trex composite deck board beat PVC boards:

1. Resistant to Scratches
When you're building a deck, you want something that will withstand years of sun, snow and big family gatherings. High-performance composite boards hold strong against natural elements; they resist fading from the sun and won't get moldy after a rainstorm or give you splinters. Compared to Trex, PVC is less impact-resistant and therefore more susceptible to scratches, dents and dings from moving your furniture around the deck. Your décor has no effect on Trex, which maintains its rich color and shape no matter what you put on it.

2. Sophisticated Colors
While both materials can withstand a storm, only Trex has the long-lasting beauty you want in an outdoor space. Unlike PVC, Trex composite decking has a matte finish that resembles real wood, not the slick look of plastic. In fact, our boards come in a wide spectrum of authentic wood-grain patterns and nature-inspired colors including tropical shades and classic earth tones.
3. Trex is Greener

In sharp contrast to PVC, Trex high-performance composite decking contains 95% recycled materials, making Trex one of the largest plastic recyclers in the U.S. The organic material in Trex boards is recycled and reclaimed wood; the polyethylene is principally recycled shrink wrap and grocery bags—all of which would otherwise end up in a landfill. After they're formed, all Trex boards are finished with a proprietary high-performance shell that resists fading, staining, scratching and mold—and is backed by a 25-year fade and stain warranty—which far outweighs PVC's long-term durability.
Only Trex high-performance composite offers you the full package: exceptional environmental responsibility, beautiful aesthetics and top-notch performance. Visit your local Kelly-Fradet location to browse our selection of Trex Composite Decking or to learn more.
To learn more about the process of building a deck from start to finish, download our FREE "Building a Deck" Guide.
Source: https://www.timbertech.com/imagine/stories/six-reasons-to-go-composite