The Kelly-Fradet Legacy: Since 1951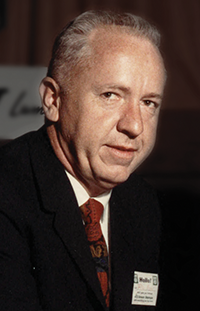 In 1951, Clarence "Red" Weeks and Lloyd Fradet began the Kelly-Fradet legacy by purchasing the Carmel Lumber Company in East Longmeadow, Massachusetts. Their goal was to provide the building industry with the best products and, more importantly, the most dependable, knowledgeable service available.
Today, Kelly-Fradet proudly follows our founders' vision, providing top-notch building materials and exemplary customer service throughout Western Massachusetts and North Central Connecticut.
Residential or commercial, remodeling or building new, we will help you get the job done on time and on budget. And you will have our 600 years of combined employee experience behind you each step of the way.
"Any business is a people business. It's the families who work for Kelly-Fradet, and the customers who purchase from us, that create the foundation to our success!"
-co-founder Red Weeks
Timeline
1951 — Kelly-Fradet Founded
The company was founded as a 50/50 partnership by Lloyd Fradet and Red Weeks, both employees of US Gypsum at the time. In a strategic move, the name "Kelly-Fradet" was created by combining co-founder Lloyd Fradet and his wife's maiden name, Kelly.
1957 — Expansion
On February 13, 1957, Kelly-Fradet purchased the 3-acre Enfield Lumber Company from Diamond Match Company. At that time, Red Weeks became the head of Kelly-Fradet Enfield. They also acquired Frederick Bomely from Diamond Match, who brought 14 years of lumber experience, as well as 9 other employees. Kelly-Fradet has continued to expand over the years, purchasing other businesses and opening new locations.
1959 — Fire
In February of 1959, a terrible fire leveled the East Longmeadow location causing over $200,000 in damages. Despite this setback, the company was doing business the next day, filling orders from the Enfield location. Later, the yard was rebuilt with a larger, fireproof warehouse.
1974 — Transfer of Ownership
On July 28, 1974, Lloyd Fradet passed away transferring ownership to Red Weeks.
1991 — The Next Generation
Red Weeks passed away leaving full ownership to his wife Aline and children Bob, Dave, Doug, and Candy.
2020 — We Become Employee Owned
In January 2020, Kelly-Fradet became an ESOP Company and is now 100% employee owned ensuring that Kelly-Fradet can continue to be an independent family-owned lumber company for many generations to come.